BACILLUS SUBTILIS +
The probiotic is a part of the Bacillus family that supports the health of the immune system, intestinal tract and the gastrointestinal tract. The product contains fibre-rich prebiotic plants such as moringa and dandelion roots, and they supplement the metabolic system with essential nutrients as well as support the organism's resilience and have a high nutritional value in general. Additionally, dandelion roots support the work performed by the gastrointestinal tract and the liver.
31.51 $

Free delivery worldwide on orders from 99€
Ships to

United States (US) (US) within 2-4 days.
Description
Moringa (Moringa Oleifera)
Dandelion root drug (Taraxacum officinale)
contains Bacillus Subtilis, a member of the Bacillus family, moringa and dandelion roots. Moringa helps an individual maintain normal blood glucose levels. Dandelion roots support the work performed by the gastrointestinal tract and the liver and also have a prebiotic effect.
Bacillus Subtilis is a probiotic in the bacillus family that supports the health of the immune system, intestinal tract and the gastrointestinal tract. Moringa and dandelion roots are nutrient-rich prebiotics, also known as fibre, which in turn are nutrition for good bacteria (probiotics). Moringa supplements the metabolic system with essential nutrients, supports the organism's resilience and is of high nutritional value. However, dandelion roots support the work performed by the gastrointestinal tract and the liver. Altogether, Bacillus Subtilis, moringa and dandelion roots make up a comprehensive composition (with great synergy between probiotics and prebiotics) that supports the efficient functioning of the digestive system.
Bacillus Subtilis with moringa and dandelion roots:
Supports the health of the intestinal tract and the gastrointestinal tract.

Conduces the development of good bacteria.

Supports the resilience of the immune system.

Creates natural antibiotics, which in turn prevents the development of pathogens.

INGREDIENTS: Moringa (Moringa Oleifera), dandelion root drug (Taraxacum officinale), bacillus subtilis (BSN100), herbal capsule (glazing agent pullulan).
DOSAGE: The recommended daily dose is two capsules per day, 30 minutes before or after meals with water; if you have a sensitive stomach, then take the capsule during the meal. Don't take more than the recommended amount. Don't use the food supplement as a replacement for a varied and balanced diet. It is essential to eat a varied and balanced diet as well as practice a healthy lifestyle. Keep out of reach of children.
STORAGE: keep the product in a dry location that does not exceed 22°C and is also away from direct sunlight.
PRODUCT QUANTITY: 90 herbal capsules
BEST-BEFORE: See packaging
When manufacturing the product, it was ensured that they were in accordance with the EU Food Hygiene Regulation EU 852/2004, the international food safety standard ISO 22000:2018 as well as the HACCP principles.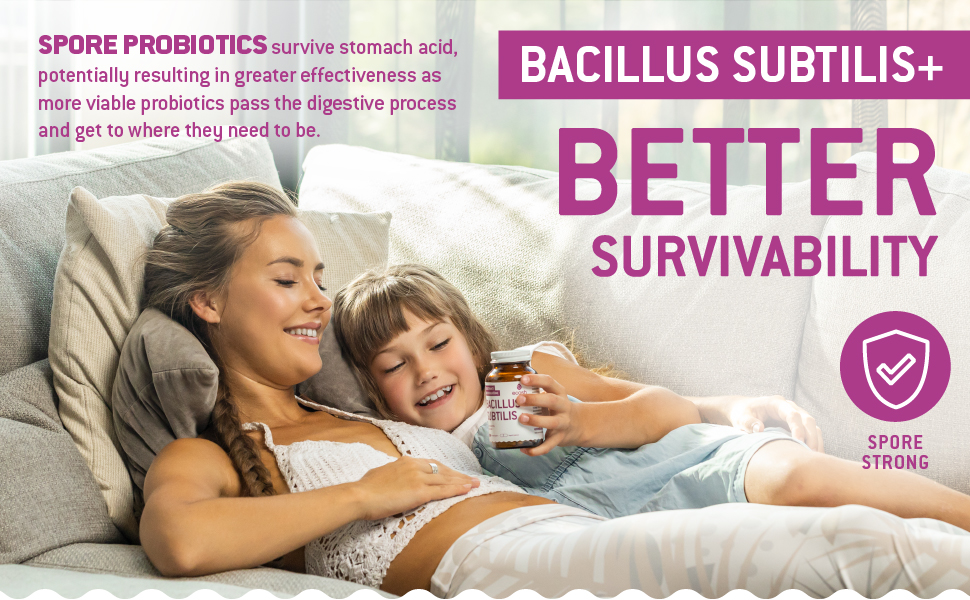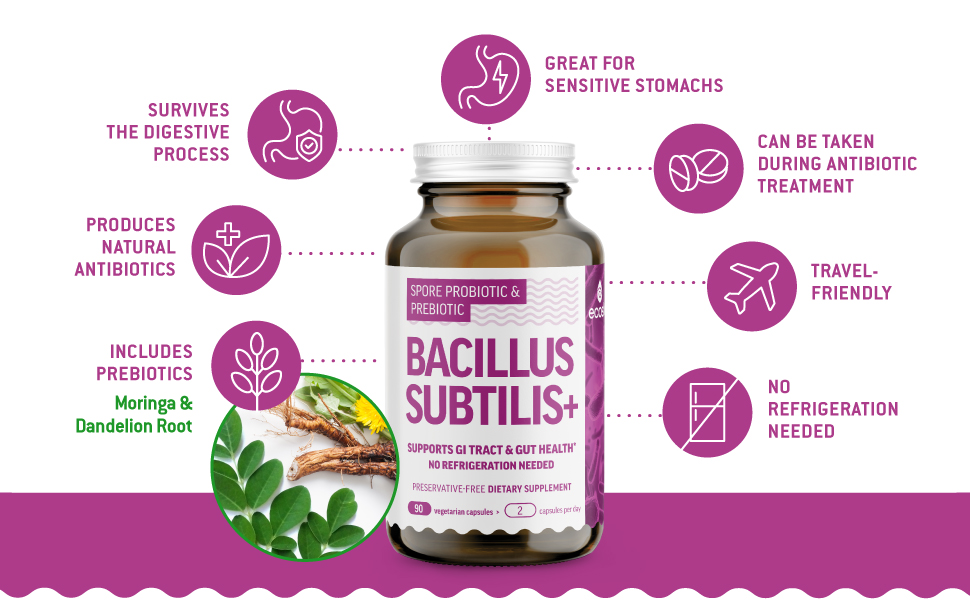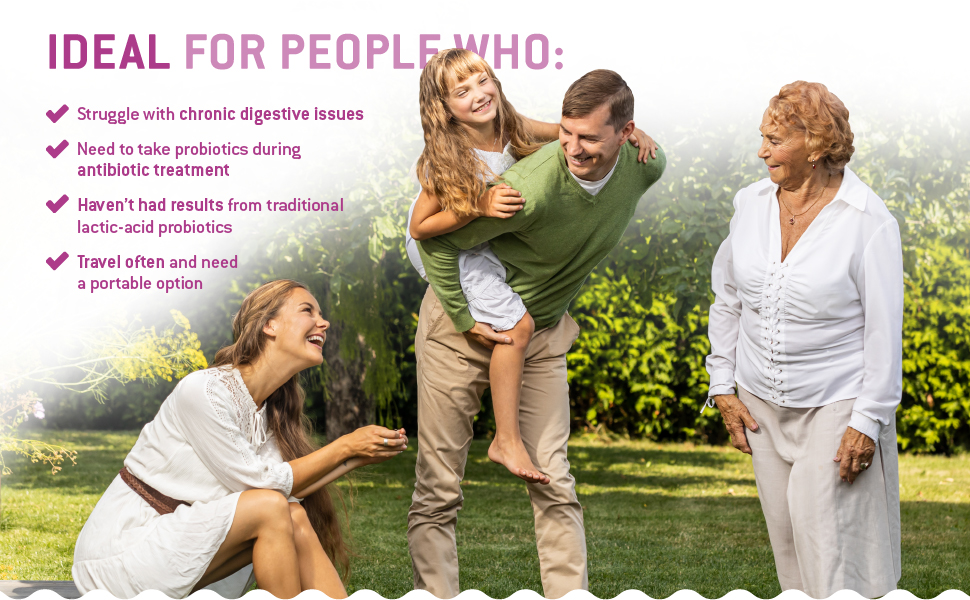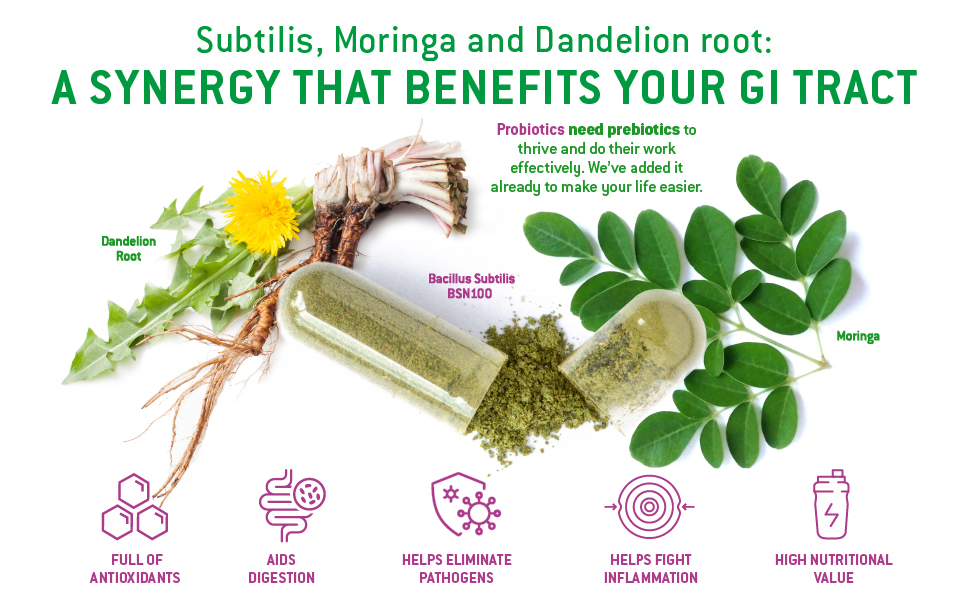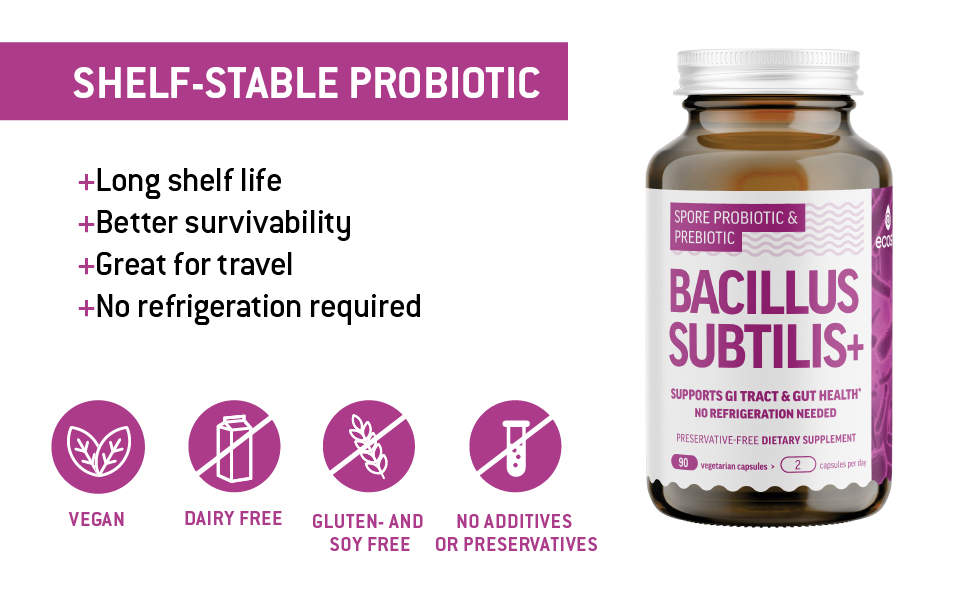 Verified
Very happy I will be a customer for life if these remain affordable. I appreciate that this is a single strain that is known to combat some hefty bugs and we've used it to address some ongoing infections in our family with success. This brand is just as effective as one we'd been using but is priced more reasonably. Very happy so far!
Verified
It helps those with Lactose intolerance to digest things like Ice cream and dairy products It helps those with Lactose intolerance to digest things like Ice cream and dairy products. I followed the instructions and took one pill before eating ice cream and for the first time i didn't feel any discomfort. You can also incorporate them with your probiotics/prebiotics.(Probiotics are beneficial bacteria found in certain foods or supplements. Prebiotics are types of fiber that feed the friendly bacteria in the digestive system)Highly recommended!
Verified
Good probiotic | Comes in a glass jar My wife has dealt with food sensitivities and allergies for most of her life. Recently (about 6 months now), we've been finding that these symptoms are better managed when she's taking probiotics. After a little research, we quickly found that bad gut health effects the body in many negative ways. Probiotics, prebiotics, and even postbiotics help to improve gut health. As far as the noticed differences, it has reduced pain, eczema, and bloating. She has also noted that she has been able to eat more of the foods that have caused her sensitivities while not experiencing as many (or any) issues at times – as long as she doesn't overdo it. Even when she has overdone it a bit, the reactions have been less severe than they were before. We're hoping that prolonged usage will continue to help reduce these issues even further over time.
ShopperShopping
2022-12-01
Verified
Working well for my gut needs I have been taking these probiotics for a little over a month now and I have already noticed a significant difference in my gut health. I no longer have as much bloating after eating and my overall energy levels have increased. I would highly recommend these probiotics to anyone looking for a natural way to improve their gut health.
Verified
Perhaps not a good choice for me.. The first time I took this, I was taking something else new to my system (not a probiotic) and had an unpleasant reaction (diarrhea, bloating, nausea), so I had to determine which product was causing the problem. I quit them both and just took this one, but only took half of a capsule and mixed it in my afternoon smoothie. I seem to feel pretty good until I eat breakfast the following morning. Then I start having symptoms and they last through the afternoon, though not near as severe as the first time I took it. My breakfast has remained consistent. The insert with the product states that you can feel some discomfort for up to 6 days after your first dose. I have had problems with a few probiotics in the past and with others I feel better and have no bad side effects. I'm always willing to try new products to see if I can stop the daily Immodium. I have had IBS for over 40 years and am tired of feeling lousy. I've been doing so much better lately with some diet changes and some other probiotics I've tried so I think I'm gonna set this one aside for now. If I find that my issues don't clear up and I can determine another cause for my symptoms, I will try this one again and update my review.
Verified
Good value for a 45day supply This glass bottle of probiotics arrived packaged and sealed well.I've been taking these for a week now and haven't felt a difference with my daily constipation and bloated issues yet. I will continue to take though for better results.Easy to swallow capsules and no funny smell, complaints or dislikes!
Verified
A great, shelf-stable probiotic We're learning more every day about the importance of the bacteria that live inside us and how they impact our health. We need certain bacteria in our gut for proper digestion. There is plenty of scientific literature on the role and benefits of various probiotics, including B. subtilis.I can't comment on using this to treat any serious health issues, but after taking this supplement for a couple weeks I noticed I've been more regular. It definitely seems to be having a positive impact.Of course, one of the big perks of this particular probiotic is that it's shelf stable. Most probiotics have a short expiration timeframe and need refrigeration because the bacteria are biologically active – they have a limited lifespan. Spores are biologically inactive – they don't eat, and they can survive for an extremely long time. They simply stay dormant until conditions are good again.I think this can be a very healthy and important addition to a person's regimen for improving their gut health. Of course, this is only one probiotic. Additional probiotics through foods like yogurt and a generally healthy diet all go a long way towards a healthy digestive tract and overall healthy body.
Verified
Safety seal isn't, and somewhat poor gut results I'll start with I posted a video in my last attempt to review of me being able to open the lid with the safety seal intact and then replace it. The packaging this came in is for show, and that's extremely concerning when you're dealing with a supplement.I generally question when you fake or fumble a safety seal, or provide one that can be removed and replaced unbroken, what other things are for show?But let's get down to the actual effects of the probiotic. I'm a vegetarian, I have my own unique gut biome, and it's been off a bit since a virus hit me and tried to kill and failed pretty heartily a few months ago. Off, but not destroyed.Days 1-4 or so of this probiotic I went from "meh" gut, to you don't want to know. Downhill hard to the point I was considering getting a different probiotic just to recover. Whatever I had in my stomach and whatever this probiotic had got into a war that this one won at day six or seven. That, or I had an unexpected and entirely coincidental flu that hit hard roughly three hours after taking every day.If I am reading this correctly today is two weeks since I started taking this probiotic. For me it was probably day 10 before I was at the same level of stomach I was before, and I think today I might be slightly better. This has been the hardest hitting probiotic, or coincidental influenza strike, I have ever run across.Unless I see marked improvement, I'd say at two weeks in I'm basically back to where I started (maybe slightly better,) in terms of energy, digestion, etc. This roller coaster of gut destruction and reconstruction may be unique to me, may have been coincidental, but at 14 days I feel nothing has improved significantly. Having had other supplements in the past I generally did have a feeling at a week or so in.I'm going to finish this out, will update if there's a marked improvement, but yeah… 49, vegetarian, been doing the occasional gut probiotic on and off for 20+ years… this one's been a trip
Verified
Made in Estonia. Looks like a quality product. I haven't heard of the brand Ecosh before, so I did some research. I was concerned at first that this was manufactured outside the United States in Estonia.Ecosh looks like it was created in 2014, so it is comforting knowing that they have been around awhile. I'm also glad they have a some manufacturing standards in place. They also state: "When manufacturing the product, it was ensured that they were in accordance with the EU Food Hygiene Regulation EU 852/2004, the international food safety standard ISO 22000:2018 as well as the HACCP principles."I would love to see some 3rd party testing of the product. The box, bottle, and directions are of very high quality. The directions looked like they put some good thought into it and had help instructions on how to ramp up dosing.The addition of prebiotics also makes this a well rounded supplement. Like any probiotic, it may take some time to work.
E_The_Real_Dragon
2022-11-21
Verified
6 billion CFU per day and 45 day supply I have to start off with the pricing on this is good for the 45 day supply of 6 billion CFU. I have a lot of GI issues and am always looking for things to help with that. I have been using this for about 2 weeks and have already seen some improvement. I tend to get a lot of cramping and painful gas bubbles and things have started to get less intense and less frequent. I will probably buy another bottle so I can keep it going for 3 months and then decide if it is really working as well as I feel it is, or just coincidence that I feel better now.. As of now I am very impressed and if things stay this way long term than I would definitely recommend.
Only logged in customers who have purchased this product may leave a review.